Bookings
Lab Tour
---
We would love for all of our clients to be able to visit the lab to see where the magic happens. We have an open-door policy; however, booking in time means we can ensure we can put aside time for you to see the whole lab and take a seat to go through anything else you might want to discuss.
---
Workshop
---
We have a large workshop room, and we love to use it! Our workshop can cater for small groups or up to 40 people. With ample parking, only 20 minutes from the CBD and close to public transport, workshops have never been so easy to organise.
---
Webinar
---
Let us set up a personal webinar focusing on what you want to go through! Webinars are a great way to ensure you are learning exactly what you want to, instead of logging into a large group with no interaction or focus on you. Catch up on new updates, scanning, prescriptions tips and more by organising a personal webinar today.
---
Scanner Set-Up
---
Book in a time for one of our staff members to set your scanner up remotely. Remote access via Teamviewer makes it feel like we are in the room with you, no matter your location or time of day.
---
Phone Call
---
Need to chat with one of our staff members? This form allows you to select the reason for the phone call, it might be accounts, scanner help, prescription education or anything else on your mind, so we can get the best staff member that will help with your enquiry!
---
About
---
Located on your myorthotech portal under Support on the menu you will find Bookings. Giving you full control with this quick and easy way to book in your next lab visit, workshop, webinar or call around your busy schedule. Once approved, a calendar notification will be sent to your provided email to confirm the booking.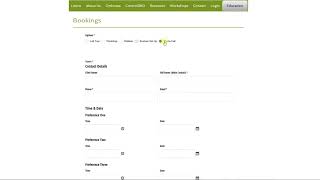 ---
---