Orthotech 3D EDGE
Software
Computer Requirements
---
The Computer Requirements for the Orthotech 3D EDGE is a minimum CPU of i3 with 4GB of RAM and Windows 7/8/10 operating system.

---
Change or create folder for scans
---
Here is step by step instructions to set up a new location for your Orthotech 3D EDGE scans to save: 1. Create and name a folder for the scans. 1. Plug the scanner in and start it up like you are able to scan. 2. Click the settings wheel in the bottom right of the page which will give you the option on where you would like to save the scans. 3. Locate the folder you have create and save. We suggest to create a folder you would like it to be pointed to before doing this and please do not change the name of the said folder after connecting as it will disconnect the scans and they will default back to the desktop.
---
Download Software
---
The Software for the Orthotech 3D EDGE scanner is the same software as our Prescription Software. CLICK HERE for more information or see below. Below is step by step on how to download the software: 1. Head to this link https://orthotech.egnyte.com/fl/nnrhSvKhww 2. For this scanner we require you to download the first option - LSR 3D Foot Scan and the second last option - orthotech_3D_install. 3. Download TeamViewer and pin it to your taskbar which is also available on this page, if you have not used this program before it allows us to login to your computer once you pass on the ID and password so if you are having any issues we can help you ASAP.
---
Software Interface
---
---
Connecting scanner to your computer
---
Once you have followed the instructions for downloading or updating the software above, see below for the step by step instructions for connecting your Orthotech 3D EDGE scanner to your computer: 1. Once the software is installed there will be a green Orthotech icon and a Blue paw print icon on your desktop. 2. Double click the green icon open. 3. Under Setup>Setup please tick 'Only Orthotic Report' near the save button and then press save. 4. Double click on the blue icon and a menu bar will appear in the top centre of your screen, 'Scan' and 'Open' are the two buttons you will be using for this software. Please note you are unable to open the software if the scanner is not attached and on. 5. We have many videos online going to exactly what you would of received through to setting the scanner up, please head to Orthotech.info > Training Videos. 6. In regards to the script you are able to set up as many default forms as you like, this helps you save your clinic details so you do not need to fill them out each time. This video shows you how - https://youtu.be/L0ltIEI3DcI.
---
---
Hardware
Tripod
---
---
Unpacking the Orthotech 3D EDGE
---
---
Setting Up Scanner
---
---
---
Scanning
Scanning Plaster Cast and Foam Boxes
---
---
Scanning on the Tripod
---
---
Scanning Methods
---
---
Scanning on the Floor
---
---
Difference In Scans | All Scanners
---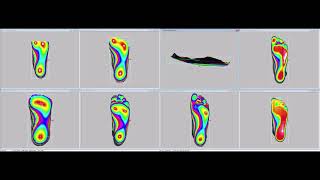 ---
---
Troubleshooting
Lock Pin
---
1. Turn off the power. 2. Tilt one end of scanner, the carriage should move, 3. Then tile the other end. 4. This should reset the logic for detecting lock pin
---
---